The New CBT Explains the Research Essential for Clinical Practice
It presents original and immediately applicable perspectives for experts in all disciplines within the mental health field. Yet, it is accessible to anyone seeking a deeper understanding of psychological processes. 
It provides an indispensable tool for mental health professionals by critically evaluating the technologies and methods that have become essential for evidence-based treatments. 
It is the only professional book that presents a synthesis of the disciplines that are indispensable for the informed clinician:  psychotherapeutic theory, evolutionary science, behavioral genetics, and the neuroscience of cognition, emotional feelings, and behavior.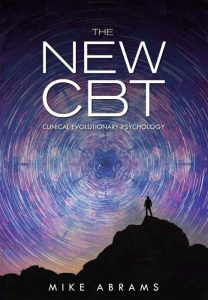 The New CBT Resolves Many Persistent Dilemmas in Mental Health
The New CBT makes many of the new complex and significant scientific advances accessible to clinicians, academics, and concerned individuals.  The reader will be provided the knowledge to distinguish ineffective or fad treatments from the best evidence-based treatments.
The New CBT will provide the reader with applicable knowledge of brain functioning, an understanding of how their genes constructed their brain, the means by which natural selection evolved their entire genome, and, most importantly, they will learn how all this information can be applied to their own psychological problems and those close to them.
This book is based entirely on contemporary science a unique emphasis in psychology. Too many psychological treatments have been based on the traditions or speculations of charismatic figures. This has burdened clinical psychology with methods based on subjective experience instead of the science used by research psychologists. The New CBT closes this gap between scientific and clinical psychology. It is entirely based on the latest scientific evidence, so rather than use metaphors to represent the complex processes that generate thoughts and feelings; it identifies and explains the responsible brain or biological processes.
An Indispensable Resource for Clinicians, Academics and Those Who Need Practical Answers
The New CBT applies research from a wide range of allied sciences to provide new perspectives and comprehensive explanations of DSM 5 disorders.
It explains how many diagnoses result from conflicts among modular brain networks that are often the result of selective forces in earlier epochs.
The importance of heritability is made clear enough to make it a tool for both understanding and treating psychological problems.
The New CBT proposes an original clinical system that synthesizes the most applicable features of cognitive behavioral therapy, evolutionary psychology, and behavioral genetics. This will help the clinician reduce the stigma of psychological distress and help all of those in the therapeutic process acquire an accurate conception of the brain's role in mental disorders.